Photographers

Turn Your Best Photographs
Into Beautiful Full Color Cards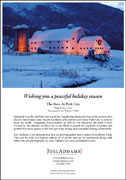 Click on image for larger view
If you have ever seriously explored professional 4-color process printing to make some of your best photos into greeting cards or post cards, you may have been discouraged by high printing costs and big quantity demands.

Canyon Color Graphics has removed those hurdles and lets you make your favorite photographs into professional cards in reasonable quantities, and without a budget-breaking price tag. You can choose greeting cards, a luxurious photo presentation, or more economical, but exceptional quality post cards.
5" x 7" Postcards
We can print your photographs on high quality 5" x 7" note cards or post cards at low cost.
Use your cards to:
• Promote your photography
• Wholesale to local gift shops.
• Retail at art fairs or club events.
• Fund raising for high school projects or local charities.
• Announcements, invitations, or holiday greetings for your business or personal use, etc.

Note cards are printed on 14 pt C2S stock with High Gloss UV on the photo side.
Available in quantities starting at 250. Finished cards are scored, but not folded.